Cast of 'Follow Me.'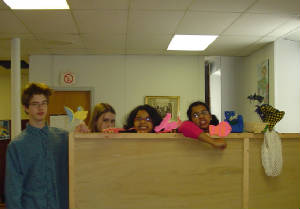 The NPC Peacenik Players. Feb. 2007.
This play is told from the fishes' point of view. When Jesus calls the fishermen to be fishers of men instead of fish (even tho at this precise moment their skills as fish fishermen are dubious!), these watery denizens of the material world are extremely grateful!

.................................
FOLLOW ME
(Or how Jesus saved the lives of many fish!)

Script for the Puppet Play for Drama Workshop, Follow Me/Call of Disciples Rotation © November 2006, LD McKenzie (adapted from the New International Version)

CAST:
Fred, Phil, Felicia, and Fiona (also known as Fee) the Fish, Jesus, Simon Peter, James and John.

PROPS:
Puppets for above characters (cut out 2 sides of felt or cloth around hand, hands are fins, glue sides together leaving bottom open, draw fish face), puppet stage, netting, fishing boat, school of fish puppet.

Fred:[popping head up to look around. Have human puppets at opposite side of stage]
Hey Fiona. Check this out. Looks like we're off the hook tonight.

Fiona: [popping up] Why?

Fred: Lot of action on the shore. A lot of those ugly creatures with legs are standing around listening to one main ugly creature with legs. No one's doing much fishing.

Phil: [popping up] Don't count on your caviar before it hatches, Fred. Take another look.

Felicia: [pops up] The nice, although ugly, guy with legs is coming over to one of the ugly guys with nets.

Fred: Yeah, those guys with nets are real pains in the dorsal.

Fiona: I hope he's not hungry. The net dudes haven't been catching much lately…ha ha ha ha ha [other fish joining in laughing.]

Phil: Oh Fee, you are so nasty.

Felicia: Fred, you've got a keen lateral line for hearing things. Bob up to the surface and see if you can tell what's going on.

[Fred floats up. Lies sideways with his lateral line close to surface near the humans. Starts shouting to friends]:

THE TALKER IS NOW TALKING FROM ONE OF THE BOATS…

OKAY, NOW HE'S TELLING ONE OF THE NET KNOBS TO DROP HIS NET HERE TO CATCH SOME FISH…HA HA HA HA HA…[all fish guffaw]


Phil: Now what's he saying…

Fred: THE NET KNOB IS TELLING HIM HE'S BEEN FISHING ALL NIGHT AND HASN'T CAUGHT ANYTHING…[all fish snort and chuckle]… HANG ON… DIVE, DIVE, DIVE…!

[All fish swim away and squeeze up at one side of stage.

Fishermen puppets dangle net down over front of stage.]

Felicia:[panting] What was all that about?

Fred [also panting]: When the talker told the net guy to drop the net, the net guy said he would -- just because he said so. Something smelled human-y.

Fee: Hey look, here come some people from the Tiberius school. HI GUYS, OVER HERE. [starts waving excitedly].

[Phil jumps on her to stop her. The school of fish puppet swims into the net. Quickly lift net and puppet together]

Phil: Too late. Now look what you've done. Our friends are sushi.

Fee: Who knew? The net knobs haven't caught anything for a long time.

Felicia: Well it looks like they've gotten lucky now. Must have something to do with that ugly talking guy. We're doomed.

Fred: Hang on. What's happening now.

[Fishermen stuff net into their boat and pulled it offstage with exaggerated grunts and groans. All human puppets leave stage.]

Phil: Looks like they've packed up their nets and gone home. It has to have something to do with the ugly talker. They seem to have gone off and followed him.

Fee: He may be ugly. But I like him. This is a great day for fish.

[All fish bend a fin over their hearts.]

THE END