BACKGROUND NOTES & OTHER NEAT INFO.


ZOOM IN ON THE HUMBLE.

Just for a bit of fun this time around, let's focus on the contrast between the heavenly and the humble for this Christmas study unit.



TWO SPECIAL WOMEN.

The Gospel of Luke spends a lot of time on the characters of the mothers of John and Jesus -- Elizabeth and Mary.

Canadian writer and former moderator of the United Church of Canada, Lois Wilson, focuses on these women as well in her book Stories Seldom Told.



Elizabeth who finds herself finally pregnant in her "old age" forms part of the older moms sisterhood along with Sarah and Hannah. Mary, "the poor young unmarried one," of course belongs in a category all of her own.



THE MAGNIFICAT (& OTHER NATIVITY CANTICLES).

Mary sums up the sentiments of both women in her song at Luke 1:46, known as the Magnificat, "so called from its first word in the Latin and Vulgate translation," say our footnotes in the NOAB/NRSV at this text.



A prototype for this song appears earlier in the Bible in a song from Hannah, mother of Samuel at 1 Sam 2.1 - 10, another woman blessed with a long sought, later in life pregnancy.



"[The Magnificat] is the first of four 'canticles' or 'hymns' in the infancy narrative of Luke," our footnotes also indicate.



The other 3 hymns are: Zechariah's (father of John) prayer, the song of the angels to the shepherd, and Simeon's song on seeing the saviour when the infant Christ is presented at the temple.



The hymn of praise of Zechariah at Lk 1.68 is called the Benedictus.



CHRISTMAS, A STUDY IN CONTRASTS.

Count on Canadian writer and scholar Northrop Frye to express with matchless economy and flair the significance of contrasts in the Christmas story. The following quote is from piece called 'On Christmas,' from 1973, found in Northrop Frye on Religion:


"[Christmas] is an exclusive feast; we withdraw inside our families and write cheques for the organizations that look after those who are colder and hungrier. But the feeling of exclusiveness bothers us more than we realize. The powers of darkness that gather at Advent are also the powers of tyranny and exploitation, of the arrogance of privilege, of the spirit of the first Christmas when the hotels were so full that a pregnant woman very near her time was forced to spend the night in a stable ...


"There have always been two sides of the Christmas story, and they are an emotional contrast. One is the sense of quiet, of the world coming to a full stop in its course, of peace descending for one breathless instant at midnight under the stars. This feeling finds its focus in the vision of the mother and the child, the mother who is in some mysterious way virgin, bride and sister as well as mother, the closed garden of the Songs of Songs in which the wind of the Holy Spirit moves to create the newborn God."



QUESTIONS FOR DISCUSSION.

1. Name some other contrasts in the Christmas story. [Ideas -- holy child born in a stable/laid in a manger. Prince of peace manifesting himself as a baby. Wisemen coming from long distance to pay homage to a baby. Son of God being born to poor young unmarried woman, relative nobody. Angels appearing to tell good news to humble shepherds. Infancy story happening against backdrop of Herod's slaughter of the innocents. Mother of Christ while pregnant having to make long journey on a donkey in order to take census/ to be taxed.]

2. Name other/another woman in the Bible who had a baby late in life (Sarah, Hannah).

3. Name some other special hymns or songs in the nativity story.

4. Has it ever happened to you that you were surprised to be given a really special job, one that you felt honoured about being chosen for, and felt maybe you didn't deserve it?

5. How did you deal with that? Who did you tell your private thoughts to?

6. Did carrying out this special job have some hard or difficult aspects to it that you couldn't really talk to anyone about. [ie with older kids, perhaps talk/think about how Mary might feel about being pregnant before she was officially married.]

7. Have you ever felt angry with God for giving you a job or assignment that you didn't really chose, and that you felt was way too big or hard for you?

8. How did you feel about it all when you got the job done?





WORKSHOPS

Please find below suggested workshops for this unit. For each one, when you are in real time with the children:

1. Quickly review or recap the story with them before starting activity. Each week, see how much more detail each group of kids can supply on the story they've been studying.

2. Link or explain your activity to the current story.



KITCHEN

ACTIVITY: MAKE 'GINGERBREAD STABLES.'

LIKE GB HOUSES, ONLY USING ICING GLUE ON GRAHAM CRACKER SLABS, WITH FOCUS ON DECORATING. ALLOWS EACH KID TO HAVE 1 SMALL GB HOUSE (OR SHED) TO TAKE HOME. SMALL SIZE OF STRUCTURES WILL RESEMBLE THE STABLE IN THE STORY. GET KIDS TO CONCENTRATE ON HAVING DECORATION HIGHLIGHT SYMBOLS FROM NATIVITY STORY [IE STARS, SHEEP, ETC.]



INGREDIENTS:

- graham cracker slabs, various candies for decorations, icing/glue


For icing: (3 egg whites. 1 1/2 teaspoons cream of tartar, 3 - 3 1/2 cups icing sugar. In a large bowl, beat the egg whites until they begin to foam. Add the cream of tartar and beat until the whites are stiff but not dry. Gradually beat in the icing sugar, beating for about 5 minutes until it reaches spreading consistency. Keep it covered and refrigerated until needed.)



[Another recipe calls for melted chocolate (white) as the glue. Says it holds better. ***We have tried this. It's good. Melts quickly in a microwave oven and holds well!***]


Click on these links for pictures of kids making graham cracker buildings with white chocolate glue. And here for closeup of candy structure.



REAL TIME WITH THE CHILDREN

Ready. Quickly review or recap the story with them before starting activity.

Set. Link or explain your activity to the current story.

Go. EXPRESS YOURSELF!






ARTS


ACTIVITY:KIDS WILL MAKE LARGE SHEETS OF WRAPPING PAPER FROM OLD NEWSPAPERS USING POTATO STAMPS AND BRIGHT TEMPERA PAINT. RECYCLING CONCEPT WILL HIGHLIGHT THE IDEA OF SOMETHING NEAT COMING FROM HUMBLE BEGINNINGS.



MATERIALS:

- lots of old newspapers(or unbleached newsprint/lecture sheets)

- lg potatos cut in half

- pens or pencils

- few dull-ish paring knives

- bowls of tempera paint

- paper towels



INSTRUCTIONS:

Kids will draw simple Christmas shapes or symbols on potato (stars are good. angels can work). Adults or older kids can carve around outlines to create stamps. Stamp on prints. Sheets dry fairly quickly if not to overloaded with paint. Have paper towels ready to blot excess and drips to take home.



REAL TIME WITH THE CHILDREN

Ready. Quickly review or recap the story with them before starting activity.

Set. Link or explain your activity to the current story.

Go. GET MESSY!




COMPUTER LAB

ACTIVITIES:

* review story on Life of Christ computer program available from Sunday Software. There are four nativity related lessons on this program.

* lots of activities on 'Fluffy (the Christmas sheep) & God's Amazing Christmas Adventure' program from Sunday Software.com.

* using a simple card making template (available in most wp programs), make your own 'humble' (read better than store-bought) Christmas cards. Could be for family or for the elderly at your church.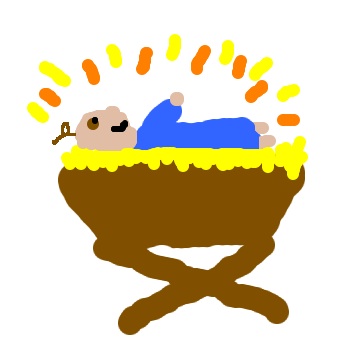 CHRISTMAS, Rotation 6 (or Humble Beginnings 2)

New workshops include: * Arts /orange pomander * Kitchen/Sweet Nothings * Music/teach What child is this (or some other classic Christmas song) * Beatbox * Computer/Fluffy vs Herod, DJ Fluffy Jam

>WORKSHOPS




Please find below suggested workshops for this unit. For each one, when you are in real time with the children:

1. Quickly review or recap the story with them before starting activity. Each week, see how much more detail each group of kids can supply on the story they've been studying.

2. Link or explain your activity to the current story.


ARTS -- Pomander

A simple gift from simple materials. In the spirit of Christmas.

Materials: box of Clementine oranges, lots of whole cloves, toothpicks, ribbon or sparkly Christmas yarn, ornament hooks.

What to do. Each child gets an orange. Poke these with toothpicks. Kids can do this themselves, or adult can do this for younger kids. Press stem of whole clove into the new holes. Tie yarn or ribbon around orange as if it's a round gift parcel. Can be hung by ornament hook from Christmas tree or other location around home. The heat from the Christmas tree lights will make this smell really nice.


KITCHEN -- Sweet nothings.

Prepare a gift tin of these treats make from odds and sods in the pantry for a gift giving spirit of Christmas gift.

Ingredients: chocolate chips, broken pretzels, mini marshmallows, rice krispies. Also muffin papers and Christmas tins.

Melt the chips down in microwave. Stir in enough of other ingredient to sort of absorb the fluid chocolate. Drop in plops on cookie sheets or lengths of wax paper. Wait til plops cools and re-solidify.

Put plops into muffin paper. Gently fill a Christmas tin (can be small for just a taste of sweet nothings).

Christmas tins can be picked up cheaply early in the season at dollar stores. Or you can cruise recycling depots for gift tins. Non-Christmas tins would work too. Just tape a Cutout from old Christmas card to the outside of lid.




MUSIC -- What Child is this (or other fave Christmas song with birth of Jesus angle.

I'm thinking What Child is this. Roger McGuinn has a nice version on Folkden, with guitar chords and lyrics.

Click here to go to it.


BEAT BOX

Why: use sound effects and action to reinforce key plot points of this bible story.

How it works.

**This concept is borrowed from the Beat Team segment in the children's show 4 Square on Treehouse TV. If you have a PC, you can view a clip online. Go to Treehousetv.com > and follow the links. We Mac users would appear to be out of luck on this one!

Divide class into 4 groups or parts.

Brainstorm 4 different parts to produce together like a round.

Have groups practice separately. Then try each other's parts. Then come in in sequence like a round.

Take your Beat Box to another, perhaps younger class. Or share during worship at children's story time.

Suggestions for 4 parts.

1. Say, Fear not, good news! Fear not, good news! (make stop motion with hand, raise hands in semi praise motion)

2. Say, Baby boy, baby boy (act out cradling and rocking a baby)

3. Say, Glory to God in the highest (flap angels wings)

4. Say, Peace and good will to all, Peace and good will to all (make bouncing peace sign)


COMPUTER – Best of Fluffy & God's Christmas Adventure

These are totally the best parts of Fluffy, from Sundaysoftware.com. Go all out and enjoy them!

• Fluffy vs Herod in shepherd section (gotta love those upside down sheep feet)

• DJ Fluffy Jam – fun reworking of 2 classic Christmas hymns




Click here for more pics
Putting to Bethlehem
Neil's Mini Golf Workshop

The idea here is kids putt thru 1 of 4 cardboard flats that show a scene from the nativity story.

Flats are cut from box board and have a string taped to back with duct tape so you can tie it around some basic chairs.

The coordinators went with these 4 basic scenes - Journey to Bethlehem, Baby is Born, Angels appear to Shepherds, and the Wisemen.

These are the 4 "holes" they put on the score cards. Scoring was something simple like 3 points for hole in 1, 2 points for 2 shots, 1 point for everything else. Click here for score card pdf (2 per page).

The small scale clubs and ball sets (2 sets giving 6 clubs, foams balls and little half moon foam cups) were picked up at a local toy store for $22 CDN each.

As pictures show, this workshop is fun to work up and fun to do!


Click here to return to Top of page for Background Notes and Christmas – Humble Beginnings, Rotation 1 Workshops.