BACKGROUND NOTES & OTHER NEAT INFO.

ABOUT THE BOOK OF ACTS.

This story is found in the book of The Acts of the Apostles, which comes after the gospels in the Bible. According to footnotes in the NOAB/NRSV, the book of Acts "tells a dramatic story of the birth and expansion of the church from the time of the ascension of Jesus until the arrival of Paul in Rome."

WHO WROTE THE BOOK OF ACTS?
Again according to footnotes, the author "is identified by tradition as Luke," who had "already produced the Gospel."

WHAT IS ACTS ALL ABOUT?
Footnotes here say the book of Acts "addresses and tries to solve potential and actual social and theological problems brought about by the church's relationship to its Jewish heritage and its Roman cultural and political environment. Luke sought to clarify both how the [early Christian] church was faithful to the God of the Bible and how Christianity was not incompatible with citizenship in the Roman Empire... [Luke portrays] the successful expansion of the early Christian mission throughout the Roman Empire under the direction of the Spirit according to the purpose of God."

WHO IS PHILIP?
Philip makes his appearance at Acts 6. The disciples decide they have to do something about complaints that some of the needy are being left out of the 'daily distribution of food (6.1). So 'seven men of good standing,' Philip being one of them, are chosen 'to wait on tables.' Translation from footnotes: "The seven are identified as the first deacons by later tradition but hold no ecclesiastical office here... To wait on tables, i.e., to feed the hungry."

WHERE WAS ETHIOPIA TO THE ANCIENT WORLD?
The footnotes to the verses on the Ethiopian treasurer's baptism are helpful here: "As in the case of the Samaritans, the baptism of an Ethiopian eunuch breaks social and ritual barriers... Since in the ancient Mediterranean world Ethiopia was often considered to be located at the 'ends of the earth'..., this conversion proleptically fulfills the prediction of 1.8."

[The reference to Acts 1.8 here concerns Jesus's direction to the apostles at his ascension that they 'will be my witnesses in Jerusalem, in all Judea and Samaria, and to the ends of the earth.']


MAP SHOWING JERUSALEM & GAZA.
For a little perspective, here's a (rather small) map that gives an idea of where the wilderness road between Jerusalem and Gaza that the angel told Philip to take would have run: MAP OF JERUSALEM & GAZA.

MAP OF ETHIOPIA & ENVIRONS
And here's a nice big map that gives more an idea of where Ethiopia was:

MAP OF ETHIOPIA & ENVIRONS.


ARTWORKS.
Here's one from the collection of the National Gallery of Canada -- a Rembrandt drawing called 'The Baptism of the Ethiopian Chamberlain'. To see it, click this link: REMBRANDT'S ETHIOPIAN.

Okay, that piece has kind of a private, peaceful, subdued feel to it. Here's a contemporary image by Paul Goodnight that's kind of more bursting with the experience of baptism in the Spirit: ARTWORK BY PAUL GOODNIGHT.


NEAT SONG.
There's a classic song about water and the need for crossing great distances in order to connect -- which is sort of what this story is about, isn't it. The song is called, 'The Water is Wide.' Roger McGuinn has a nice wistful version of it on the Folkden. To hear it, click this link: MCGUINN'S WATER IS WIDE.

QUESTIONS FOR DISCUSSION

1. Philip has a fairly important job in the early church. Do you think it's significant that an angel has to nudge him twice to break the ice with this stranger?



2. Does this ever happen in church life -- that we get so caught up in our church jobs that we have to be reminded to connect with new people or other people who aren't immersed in church life?



3. What do you think is meant by the question asked by the Ethiopian, 'How can I, unless someone guide me?'



4. Has it ever happened to you that you realized a neat or special person had been left out of the conversation because he or she didn't know what the group was talking about?



5. Has it ever happened to you where you realized it only took a minute to explain what the group was talking about for the person on the outside to become included, and that then they brought some neat perspective and ideas forward.



6. Did the mood of the encounter change after you included the stranger? Did it become more tense or more relaxed?



7. If something like this happened to you, how would you tell a new friend 'the good news about Jesus'?



8. Would you have to tell it in words at all? Might sitting down with him or her in the chariot be enough?



9. What would it look like for someone to go 'on his way rejoicing?'


*************************

WORKSHOPS


Please find below suggested workshops for this unit. For each one, when you are in real time with the children:

1. Quickly review or recap the story with them before starting activity. Each week, see how much more detail each group of kids can supply on the story they've been studying.

2. Link or explain your activity to the current story.


ARTS WORKSHOP



ACTIVITY: MAKE WATERCOLOUR POSTERS TO ILLUSTRATE WHAT IT MIGHT LOOK LIKE FOR A PERSON WHO HAS BEEN INCLUDED 'TO GO ON HIS OR HER WAY REJOICING.'



INSTRUCTIONS:


- large sheets of paper for posters.



- pencil for sketching



- watercolour paints and brushes.



- newspapers to paint on



- water and paper towels for changing colours and blotting.



- fine tipped marker for adding phrase like 'Go on your way rejoicing.' Or 'When someone guides me.'



** See if you can pull a colour print of Paul Goodnight's piece about the Ethiopian from the internet using the link found in the Background Notes to this lesson. It might provide a good starting point for colour ideas to get creative juices flowing!



IN REAL TIME WITH THE CHILDREN

1. Quickly review or recap the story with them before starting activity. Each week, see how much more detail each group of kids can supply on the story they've been studying.



2. Link or explain your activity to the current story.



3. Be on your way!


***********************



KITCHEN



ACTIVITY: A GUIDE WOULD TAKE SOMEONE ON A PATH THAT WAS UNKNOWN TO THEM. MAKE 'GOOD NEWS GORP (OTHERWISE KNOWN AS TRAIL MIX) FOR THE VOYAGERS TO TAKE ON THEIR JOURNEY.



INGREDIENTS:

Saddlebag Trail Mix



2 cups raisins



2 cups dried banana chips



6 ounces mixed dried fruit bits



Blend all ingredients and store in an airtight container. Makes 7 cups.



** You can mix in lots of other neat ingredients, like chocolate chips, CHEX cereal, toasted corn or pine nuts (avoid other nuts in view of peanut allergies), pretzel bits... the possibilities are endless!



REAL TIME WITH THE CHILDREN

Ready. Quickly review or recap the story with them before starting activity.



Set. Link or explain your activity to the current story.



Go. Mix it up!



**************************



DRAMA WORKSHOP


ACTIVITY: ACT OUT OBJECT THEATRE PLAY USING KITCHEN AND CLEANING GADGETS AND THIS SCRIPT: SCRIPT FOR FEATHER DUSTER AND SILVER SALAD TONGS.

MATERIALS:

- box of gadgets from SS office.



- script.



*To use this script with younger children: workshop leader and shepherd need to take reading parts. Kids can act along with narrative or try 'say after me' format.


For a picture of one our our object theatre puppets, click here.




IN REAL TIME WITH THE CHILDREN

1. Quickly review or recap the story with them before starting activity. Each week, see how much more detail each group of kids can supply on the story they've been studying.



2. Link or explain your activity to the current story.



3. Act up!

**********************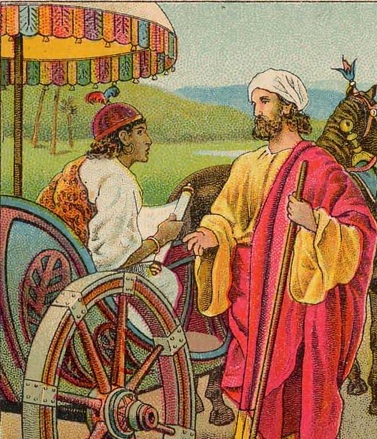 Art from Breadsite.org
WORKSHOPS FOR UNLESS 2



ARTS 1 – Scroll

The Ethiopian was reading scripture with lines from Isaiah 53, v 7-8. And of course the book of Acts in which we read our current story is scripture. Create a scroll featuring a verse or 2 from either bible passage.

Use legal size paper. Rub over page with damp (not sopping) tea bag. Crumple damp tea stained page to give aged effect. Accelerate drying with a hair dryer. Or have other pre-stained sheets ready.

Have children copy out suggested lines in middle of page. For younger children, verse can be print out that they glue into centre of scroll.

Tape drinking straw, bamboo skewer or precut twigs to top and bottom edge of scroll. Roll up like a scroll. Tie off with an elegant piece of ribbon. It is scripture, after all!



ARTS 2 – Map

There's a lot of playing around with far distant places in this story – Ethiopia, end of the earth. Create an aged map to convey a sense of the scope of this tale.

Create an aged sheet of paper for your map, as described in Arts 1 above.

Identify with the children some simple places you want located on the map. (I'm thinking here of an ultra simple Dora the Explorer kind of map, with basically 2 obstacles and and end point.)

Design and draw with pencils. Fill in with markers. Roll up and tie off with nice ribbon, in the manner of a simple scroll.


ARTS 3 – Model of Ethiopian's chariot.

When we did our object theatre play for this story in Rotation 1, the kids all gravitated to filling some kind of bowl with kitchen tools and pushing it around like the chariot.

Look at some art images on Biblical Art on the WWW. There are some very neat ones, ie with umbrella, lots of types of wheels, etc. Think about it – wheels, boy kids…!

Supply the kids with recyclables to make their chariot – egg cartons, yogurt containers, bottle tops, cloth scraps, blunt scissors, glue.

You could give everyone a couple of clothes pegs to turn into Phillip and the Ethiopian by wrapping with cloth scraps(fancy and dull) and glittery (or dull) pipe cleaners.

Use plasticine or salt clay blobs to stick clothes peg figures to chariot.



GAME – Create your own board game

Using the map idea from Arts 2, create a circle track with coloured squares. Find a big piece of poster board or even broadcloth and draw track in permanent marker. Roll 6 sided die to move ahead. When land on a red square, pick a card. Decide on playing pieces. Write up 12 or so moves on recipe cards. Older classes can develop their own positive and negative situations based on the story resulting in steps forward and back. Or teachers can pre-write cards based on ideas like this:

1. Angel tells you to over to Ethiopian. At least you finally stopped being a couch potato…Move ahead 2.

2. Meet official from Queen Candace's court. Sounds very grand. Move ahead 4.

3. You've picked some fine reading material. Go ahead 2.

4. But you haven't got a clue what it means. Move back 3.

5. Angel has to tell you again to get closer to chariot. Move back 3 for lack of initiative.

6. You ask a tentative stranger for help and guidance with your book. Move ahead 2.

7. You are able to tell the Ethiopian what his text means. Move ahead 3.

8. You see a river up ahead, and say why not be baptized. Lots of initiative. Move ahead 5.

9. You express your belief that Jesus Christ is the son of God. Move ahead 5.

10. You baptize the Ethiopian. Move ahead 4.

11. You are moved by the Holy Spirit. Move ahead 2.

12. You go one your way rejoicing. Move ahead 4.

** You may need to add in a few move back situation for variety, like chariot throws a wheel, chariot gets stuck in river bank, thumbprint smear on scroll, etc.


KITCHEN – Decorate cake for baptism party.

We all know when a baby gets baptized, you have a party with lots of relatives, etc. Prepare a slab cake for this kind of party.

Some can apply icing all over.

Some can add simple text using cake decorating gel tubes. Pic text like, Jesus son of God. or Someone guides me. Or Believe with all your heart.

Others can draw and cut images to be taped to bamboo skewers or craft sticks and stuck into cake, ie scroll, queen's crown, some form of water, angel, Phillip, Ethiopian, chariot., cross.

Invite congregation to share at coffee time and see if they can remember what the images stand for in this story, and give a moment to ponder baptism.



Beat Box

Why: use sound effects and action to reinforce key plot points of this bible story.

How it works.

**This concept is borrowed from the Beat Team segment in the children's show 4 Square on Treehouse TV. If you have a PC, you can view a clip online. Go to Treehousetv.com and follow the links. We Mac users would appear to be out of luck on this one!

Divide class into 4 groups or parts.

Brainstorm 4 different parts to produce together like a round.

Have groups practice separately. Then try each other's parts. Then come in in sequence like a round.

Take your Beat Box to another, perhaps younger class. Or share during worship at children's story time.

Suggestions for 4 parts.

1. Say, Go over to the chariot, go over to the chariot. (Pretend to whisper in Phillip's ear)

2. Say, what are you reading, what are you reading? (Mime opening a big book on lap).

3. Say, Please guide me, please guide me. (Gesture coming closer hand motion, then pointing down to page on imaginary book in lap)

4. Say, I believe with all my heart, I believe with all my heart. (Act out one person drizzling water on forehead of another as if baptizing – or whatever action best fits your tradition).



COMPUTER – Compose piece of music in Garage Band.


What with the regal elements in the story, a stately processional comes to mind. Picture three movements – stately, then puzzled or conflicted, then brassy and jubilant.

Click here to go back to top for Rotation 1 Workshops and Background Notes.