'JONAH SURVEYS NINEVEH,' OXFORD.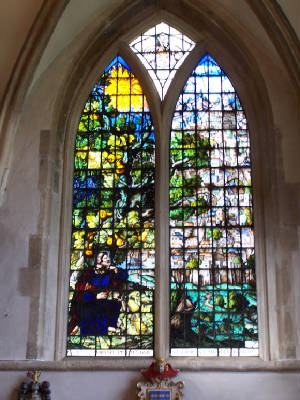 Photo © Ann Wiltshire
All you could see was a figure under a tree looking across a river at some stone buildings. Then I noticed the yellow fruit in the greenery. It looked like butternut squash. That's when the penny dropped -- squash, gourd, Jonah....

The 5 pm sun in June dropping down in the west really lit up the top 'heaven' part of the window, which left the lower parts of Nineveh (grey, upper right) and Jonah in the shade (lower left) by contrast much darker.

I still think a lot about this window.

For starters, unless like me you're a bit of a nut for the King James version, you might not even twig to the squash. My New Oxford Annotated/NSRV refers the plant as a "bush." Footnotes say it was probably a castor bean plant. So "gourd," one gathers, was a mistranslation from Biblical Hebrew. But Abraham van Linge, working in 1631, clearly wasn't aware of that.

Here's a bit more info on the web about this remarkable window by Van Linge:

"During the seventeenth century, techniques were developed to produce enamel windows for the first time. In the North Aisle of Christ Church Cathedral, the window "Jonah surveying Nineveh" made by Abraham van Linge in 1631. This window is of great interest because only the figure of Jonah is made of stained glass. The rest of the window consists of small panels of painted glass, showing the city of Nineveh in minute detail."

So what was it about this less-commonly-heard (now?) gourd segment of the Jonah story (leaving aside reduced Bible literacy -- including obviously my own!) that appealed to this artist working in the post-Jacobean era?

Another website fills in the blank that at this time in Europe, fervour of reformation was causing stained glass to be destroyed, including sites of manufacture. Hence the painted glass technique here.

[Ha. Found it. I've dropped in below the link to that neat article on the history of stained glass. Click here for the article, then scroll down and look in particular at the section subtitled, 'The low ebb.' ]

The gourd/Nineveh section clearly had great resonance for an artist working in the already turbulent early years of Charles I (who would shortly set up his own rogue parliament in the Great Hall at Oxford). This artist may have felt his medium and materials, perhaps even world view, were under siege.

The bright, crisp photo of the window that you see here was taken by Ann Wiltshire, who has kindly allowed me to reference her photo on this site. See more of Ann's work on Ann's Flikr site.

I am also endebted to Marina Bearman for this wonderfully clear photo of a small section of the window showing Jonah's face surrounded by squash. Click here for the closeup of Jonah.

To me, this window brilliantly synthesizes the narrative and symbolic elements of this story with historical context, along with colour and changing light due to movement of the sun offered by this medium.

© November 2004, LDM.