Jacob meets Esau. By Gustav Dore.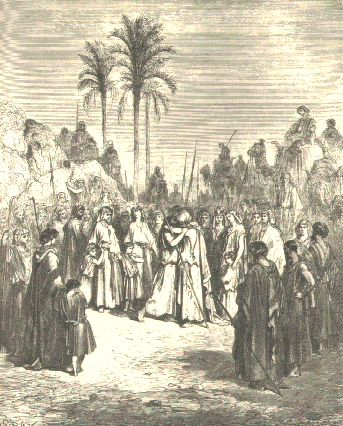 Click here for larger view.
One of my all time favourite Bible story scenes is from Genesis -- where Jacob patches things up with his brother Esau.

At Gen 32, on returning home to Canaan at last Jacob starts getting a little uneasy, worried that his long lost brother might not exactly be thrilled to see him. So he splits his large roving family into several bunches. And he sticks the animals out in front. He instructs the drovers to tell his brother they are presents. That should take the edge off.

Let's not kid ourselves -- our hero isn't crawling back home purely on his own initiative. He's tried to make the best out of several raw deals with his father-in-law and wants his independence, to 'provide for mine house also' (KJV).At this point God steps in and tells Jacob it's time to head for home and God will be with him.

The animals out front strategy works brilliantly. Esau is impressed and appeased by the time he reaches his brother, and it's a textbook happy reunion. He invites Jacob back to his place, but Jacob politely declines for now. He tells his brother:

"My lord knoweth that the children are tender, and the flocks and herds with young are with me; if my men should overdrive them one day, all the flock will die.

"Let my lord, I pray thee, pass over before his servant: and I will lead on softly according as the cattle that goeth before me and the children be able to endure, until I come unto my lord in Seir" (Gen 33, vv. 13 - 14).

The NIV uses the phrase 'while I move along slowly at the pace of the droves before me and that of the children....' The contemporary language is a bit more understandable perhaps. But it strips out the word 'endure.' And the piling up of words that relate to survival that we find in the KJV fits better with the point Jacob is hammering away at, and with his role as the head of a really big family.

Footnotes in the New Oxford Annotated Bible throw some doubt on how much Jacob really believes this line he's reeling out to Esau. The footnotes say, "Jacob does not join him [Esau], however, perhaps noting that Esau had always planned to wait to kill him until their father died."

There's no question that Jacob has always been a wily character. But the story heavily reinforces how hard he worked to win his beloved. And the tale goes to some pains to point out how much livestock he now owns, again thru dint of much labour. Perhaps a more flattering term for Jacob's primary character trait is resourceful. And would we expect anything less from one of the patriarchs, father of a good more than dozen kids, head of a small fledgling nation? It's totally fitting that a key priority for such a figure is survival.

Now we come to my point. Jacob doesn't fool around when it comes to survival. And he clearly believes that everyone understands that survival means keeping pace with the children.

So what does all this have to do with the teaching that's noted in my subtitle? Jacob is just being a dad and parent and head of household, isn't he? He's not laying any specific claims to being a teacher.

Well, let's look at what he's not doing in this scene. He's not rushing on ahead, planning to party down with his brother now that fences have been mended, and saying to the womenfolk and assorted underlings, 'See ya when you all catch up with me.'

He's not saying, 'It's not in my job description."

Or "I've done this parenting, keep pace with the kiddies, thing for years. So now it's someone else's turn."

As befitting a survivor, head of a clan of survivors, Israel takes his place with them -- with the youngest and most tender among them. In the way that this story comes to us, he's a pretty good role model.

According to the Webster's New World Dictionary, 'teach' comes from the Ango-Saxon word tęcan, meaning to show or demonstrate.

The word 'educate' comes from Latin word 'educere,' meaning to draw out or to lead out.

Think about that one in the visual context of our story!

That's all well and good, we may say. But Jacob was rare and unusual, touched by the hand of God and all that. This standard can't apply to the rest of us mere mortals.

And isn't it true that Paul writes in Romans about us all being members of the body of Christ, and teaching is the domain of those who have the gift of teaching.

Well, come on. Doesn't that let so many of us off the hook?! Paul in fact leads off this section at Rom 12 by saying at verse 2, "Do not be conformed to this world, but be transformed by the renewing of your minds, so that you may discern what is the will of God -- what is good and acceptable and perfect."

Paul in no way implies that we should hide behind our limitations. It seems to me survival and protecting and teaching children are things we all know are good and acceptable and perfect. And if we're not so hot at these things now, we are all obliged as discerning creatures that acknowledge some vague apprehension of God to get better at them.

What we are talking about is the difference between the basic brainstem physical way of perceiving the world, and the more enlightened spiritual way. Who better to turn to for more on this topic than Northrop Frye.

In the chapter 'Double Vision of Time,' in Double Vision in 'NF on Religion,' we find this:

'Spiritual authority, which is alone real, inheres in such things as the classic in literature, the repeatable experiment in science, or the example of the dedicated spiritual life; it is an authority that expands and does not limit the dignity of those who accept it. All personal authority in the spiritual world is self-liquidating: it is the authority of the teachers who want their students to become their scholarly equals, of preachers who, like Moses (Numbers 11:29), wish that all God's people were prophets."

Does not limit the dignity... Teachers who want their students to become scholarly equals. Wow. Don't you wish this for all our kids?!

Because that's really what survival is, isn't it. All of us, especially including the brightest and best among us, must treat all students as equals, with certain knowledge that these kids will become our peers, some day real soon! What we need to teach them, what they need to learn from us, is nothing less than what's good and acceptable and perfect.

It's not just the gift of the few. It's what we all hold in trust. And we must all take time and find ways to instruct our children in what's good and acceptable and perfect, which Paul equates with the will of God.

It's not the gift of the few to make our time with the kids fun. It's not the gift of the few to put some time and thought into finding out what makes fun the apprehending of what's good, right and perfect. Nothing's more important -- no strategic plan, no social network expansion, no headline or byline or babies to be seen being kissed -- than making our time count with our children, effectively passing on what's good, right and perfect to our kids, leading on softly. Nothing less than survival is at stake.

Jesus was definitely thinking along the same lines as Jacob at Matthew 25. Here the disciples ask when did they ever leave him hungry, thirsty, alone, naked, sick or in prison. And he answers: 'Truly I tell you, just as you did not do it to one of the least of these, you did not do it to me.' (NRSV)

Lead on softly. Show our children what's good and acceptable and perfect. Find a way to connect with the kids. Make it fun. Make sure they get it. It's a matter of life and death.