BACKGROUND NOTES (& OTHER NEAT INFO),

HOW ON EARTH DO WE TEACH THIS STORY TO KIDS?!

Samson is found in the book of Judges in the Old Testament (Hebrew Bible). The whole saga is fairly violent, with lots of displays of destructive power, revenge killings, and encounters between men and woman that are awkward to convey to children.


Yet it's an enduring story containing several primary archetypes that people come across in art and literature. It's a story about how God doesn't give up on people when they weaken. So if we can concentrate on the more innocent aspects of the 'fall of the strongman' theme fairly carefully, I think it's an important story to teach to children.


WHO ARE THESE JUDGES?

Introductory notes in the NOAB/NRSV clarify that the 'judges' of the book's title "should not be interpreted in a strictly judiciary sense: the 'judges' are really rulers in a wider sense..., often with significant military roles."


ARE THESE STORIES PURELY HISTORICAL?

The notes cited above further point out that this book "is not primarily interested in the real history of this period. Rather the book's selective presentation is clearly designed to instruct the reader, to communicate a coherent, didactic message concerning the consequences of disobedience to God."


AND WHAT IS THAT DIDACTIC MESSAGE?

Samson is one of many leaders who precede the monarchy that begins with Saul in the book of Samuel. The final verse at Judges 21.25 sums up the overarching didactic message quite succinctly: "In those days there was no king in Israel; all the people did what was right in their own eyes."


WHAT ABOUT THE SAMSON STORIES IN PARTICULAR?

In her book Stories Seldom Told, Canadian writer and former moderator of the United Church of Canada, Lois Wilson, gives some helpful detail on this in the chapter about Delilah:

"The Samson stories are more legendary than any other material in the book of Judges. They emerged shortly after 1200 BCE when the Philistines (not a Semitic people) with their superior skill in weapons of iron, came close to making Canaan a Philistine empire. 'Philistine' is an archaic variant of 'Palestinian...' The land [Canaan] was occupied by a hostile army, as many countries involved in civil war are today, and it was most unclear as to which side was on top. The Book of Judges is filled with stories of wars and clashes and of local or regional leaders -- like Samson, Gideon, Jephthah, and Deborah -- who temporarily unified the people and saved the Israelites from defeat and extinction."

BIT OF BACKGROUND ON THE SAMSON CHARACTER.

His story starts at Judges 13 with the tale of how an angel appears to Samson's mother, telling her that she will soon have the child she has long been hoping for. So Samson is one of the Bible's many 'miracle baby' stories.


WHAT'S A NAZIRITE?

We're told in the early going that because Samson is such a miracle baby, he's to be raised as a nazirite. Footnotes in the NRSV explain that 'nazirite' means 'one separated or consecrated' to God. Our notes further point out that "any Israelite, male or female, could take a nazirite vow, a lifestyle dedicated to the Lord's service. One element of the nazirite vow (outlined at Numbers 6.1 - 21) was that the person would not cut his hair, but let it grow long. Hence the origin of the secret of Samson's strength in his hair.


WHO WAS DELILAH?

A fairly clinical description of this character can be found in the footnotes at Judges 16 for the "Delilah incident. The valley of Sorek is the modern Wadi-es-Sarar that begins west of Jerusalem. The name Delilah may be related to the Arabic word that means 'flirt.' While the text does not say she was a Philistine, Samson has demonstrated a distinct preference for 'foreign' Philistine women, not Israelites."


WHAT SHE REALLY AS WICKED AS PORTRAYED BY TRADITION?

Lois Wilson gives a fairly balanced view of this character. She writes: "Traditionally, Delilah has been portrayed as deceitful, dangerous, treacherous, and sexually seductive -- in contrast to Samson, who is portrayed as an Israelite Tarzan, a Hebrew superhero. Renaissance art and popular music contribute to the understanding of Delilah as a temptress, second only to Eve.

"A close reading of the text, however, calls these interpretations into question. Her actions may have been a courageous act of national loyalty, as well as the action of a trickster, since she knew Samson to be responsible for the deaths of thousands of her Philistine people.


SAMSON'S PLACE IN THE CHRISTIAN STORY

So what do we continue to like about this big lunk? That he's like all of us, of course. He has a hard time choosing between love and duty. And God never gives up on him. At verse 22, we're reminded that even after he has been blinded and hauled off to jail in bronze shackles, "the hair of his head began to grow again after it had been shaved."

Further, a passing glance at this story in your basic children's story bible indicates why it continues to have such strong symbolic force. At the end of the story, blind Samson can be seen with either arm stretched out, grasping the central pillars of the house to which he has been dragged from his grinding place in the prison mill in order to be mocked -- pillars he will soon pull down to cause the collapse of the building upon his captors. Obviously, aspects of this image can be seen again in the story of the crucified Christ.

And without some awareness of these elements of the Samson story, the incredible closing paragraphs of the The Great Code, by Canadian writer and scholar Northrop Frye, would be almost unintelligible:

"If Milton's view of the Bible as a manifesto of human freedom has anything to be said for it, one would expect it to be written in a language that would smash [anxiety] structures beyond repair, and let some genuine air and light in... There's a sardonic Old English riddle (at least, I doubt if its progression of imagery is pure accident) that begins:

"An enemy deprived me of life, took away my strength, then soaked me in water, then took me out again and put me in the sun, where I soon lost all my hair.

"The answer is 'book,' specifically a Bible codex. The riddle obliquely describes a method of preparing a codex in the writer's day, and seems to be referring also to the shearing of Samson in Judges 16:17 - 22. The normal human reaction to do to a great cultural achievement like the Bible is to do with it what the Philistines did to Samson: reduce it to impotence, then lock it in a mill to grind our aggressions and prejudices. But perhaps its hair, like Samson's, could grow again even there."


AWESOME ART.

Here's strange and beautiful painting by Lucas Cranach from 1529.

And here's another terrific contemporary Phillip Ratner sculpture that captures the image of Samson's restored strength and the destruction of the house or temple.


NEAT SONG.

We've looked at this song before, but not at the verse that alludes to Samson. It's 'Hallelujah,' by Montreal poet and songwriter Leonard Cohen. Here are the lyrics for the verse in question:


Your faith was strong but you needed proof

You saw her bathing on the roof

Her beauty and the moonlight overthrew her

She tied you

To a kitchen chair

She broke your throne, and she cut your hair

And from your lips she drew the Hallelujah



Hallelujah, Hallelujah

Hallelujah, Hallelujah



Here's an mp3 sample of it. Click this link, then scroll down to Track Listing and click the icon for a 30 second sample of Rufus Wainwrght's cover of this verse: Mp3 clip of Cohen's 'Hallelujah .



QUESTIONS FOR DISCUSSION


- What do you think about the Samson character? [big dumb jerk? kind of likeable? superhero?]



- What do you think of Delilah? [really mean? just sticking up for her people?]



- Does this story make you feel God abandoned Samson or stayed with him?



- What are some of the people or things that you 'love' in your life that distract you from doing what you think God wants you to do, or from behaving how you know God wants you to behave?



- What is the main symbol of Samson strength as coming from God.? [his hair]



- Is there some thing or some action in your life that you find you need in order to stay connected to God.



- Can you name story elements shared by the Samson story and the story of Christ?



WORKSHOPS, Rotation 1


ARTS WORKSHOP

ACTIVITY: MAKE SUPERHEROTYPE COMIC PANELS FOR PARTS OF THE SAMSON STORY.


INSTRUCTIONS:

- legal size pages


- fine tipped markers


- watercolour pencils


- small brushes.



** For preschoolers, one sample comic could be made up and photocopied.



IN REAL TIME WITH THE CHILDREN

1. Quickly review or recap the story with them before starting activity. Each week, see how much more detail each group of kids can supply on the story they've been studying.


2. Link or explain your activity to the current story.



3. Ready, set, draw!

**20/20 HINDSIGHT: This turned out well also. Click here to see a sample.
*************************



KITCHEN


ACTIVITY: MAKE FRUIT SMOOTHIES IN A BLENDER. A HEALTHY DRINK FOR SUPER STRONG SUPERHERO LIKE SAMSON!


Banana Berry Smoothie (1 serving)


INGREDIENTS:

1 cup milk,1 banana, 3 large strawberries, 1 tablespoon vanilla yogurt, 1 teaspoon honey


DIRECTIONS:

In a blender, combine milk, banana, strawberries, yogurt and honey. Blend until smooth. Pour into glass and serve.


REAL TIME WITH THE CHILDREN

Ready. Quickly review or recap the story with them before starting activity.


Set. Link or explain your activity to the current story.

Go. Mix it up!

********************


DRAMA WORKSHOP


ACTIVITY: ACT OUT PLAY FOR ONE SEGMENT OF THE SAMSON STORY. WILL REINFORCE CHARACTERS AND PLOT POINTS.


MATERIALS:

- costume box.(Particular props listed at beginning of script.)

- script. Click these links for find scripts for younger and older children.


*To use this script with younger children: workshop leader and shepherd need to take reading parts. Kids can act along with narrative or try 'say after me' format.

**20/20 Hindsight. This turned out so well. Altho I had youth aged kids, I used the younger kids' script. We took video of the kids acting along to narration. When we looked at the pictures later, it looked so much like an old fashioned silent movie, which went well with all the villainy in story. So we stripped out the narration audio. Then added black and white and aged film effects. Then we went looking for silent movie piano style music, and found a great fit with Scott Joplin's 'Entertainer.' Of course silent movies suggested subtitles, so we strategically added a few of these. The result is awesome. I have posted a 10 sec clip on the web. It's in black and white, but i had to strip out the aged film effect to get it to upload and not look distorted. It gives the idea, but the real thing is a gem. It turned out so well I'd be happy to provide it on disk on request. Anyway, here's the link to the film clip.

Hang on -- Now online. The full Samson movie, albeit compressed and slightly wobbly. Still, complete with soundtrack, black and white and aged film effects. Click here for The Samson Movie.


IN REAL TIME WITH THE CHILDREN

1. Quickly review or recap the story with them before starting activity. Each week, see how much more detail each group of kids can supply on the story they've been studying.


2. Link or explain your activity to the current story.


3. Act up!

*************************



VIDEO WORKSHOP

ACTIVITY: CUE UP AND VIEW SECTION (A NOT TOO SCARY ONE) OF THE CHRISTOPHER REEVES 'SUPERMAN' MOVIE. AFTERWARD, GET KIDS TO TALK ABOUT HOW SAMSON IS OR IS NOT LIKE THIS CLASSIC SUPERHERO.



MATERIALS:

- tv & vcr from resource centre

- popcorn

- juice.

IN REAL TIME WITH THE CHILDREN

1. Quickly review or recap the story with them before starting activity. Each week, see how much more detail each group of kids can supply on the story they've been studying.

2. Link or explain your activity to the current story.

3. Push play!

***************************
From the movie, Delilah' s Super Clips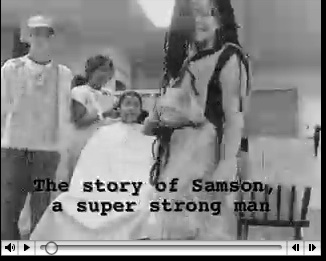 For detail, see link at top of page.
Samson, Rotation 2

New activities include: * Arts/Samson's Snazzy Strongman Bandana * Game/obstacle course * Kitchen/Strongman Stir Fry * Beat box * Computer/Comic Life


ARTS - Bandana

Protect Samson's hair, symbol of his devotion to God, with a snazzy bandana.

Materials – Squares of precut cotton, 22 inches x 22, markers, pinking shears, safety pins, various beads, hardware washers.

What to do. Create a design or image from the Samson story for the centre and border of your bandana, and draw in marker on cloth square. Trim edge with p.shears if desired. Add specialness by putting beads, etc on safety pins and adding to edge of bandana. The washers will give the idea of coins or mirrors in the fabric.


GAME – Obstacle course

In this chapter of Samson's story, as well as others, he had the strength to overcome many obstacles. Design a 4 -5 station obstacle course for the kids to complete, like Samson. Ideas could include:

1. Balance beam . Walk on a board or skipping rope, stepping over bean bags.

2. Box jump. Kind of like hopscotch with a stretch. Lay out boxes or hoops far enough away from that the kids have to jump a bit to get to end of this station.

3. Frisbee toss. Throw Frisbee into clean garbage can.

4. Slalom. Create a zigzag course with chairs and have children run it while balancing a small balloon or ball on a spoon.

5. Tarp crawl. Using a tarp, sheet or parachute, have others hold the ends close to the ground. Racers crawl on tummies under the sheet from one side to other.


KITCHEN – Strongman Stir Fry

Strongmen (and women) need a healthy hearty meal like a stir fried meat and veg to keep up their strength.

Have the class help you wash, cut up and prepare one using some of the following:

Chopped steak or chicken, mushroom, carrots, snow peas, onions, celery, canned sliced water chestnuts, pine nuts deep fried chop mein noodles, pepper strips.

You can stir up a packaged stir fry sauce or make your own basically from 1/3 cup water, ¼ c soy sauce, ½ tsp of garlic, ¼ tsp chopped ginger.

Using a wok or large frying pan, start with hard vegetables first, then add softer one to bottom of pan.

Serve with minute rice or something if you wish.



Beat Box

Why: use sound effects and action to reinforce key plot points of this bible story.

How it works.

**This concept is borrowed from the Beat Team segment in the children's show 4 Square on Treehouse TV. If you have a PC, you can view a clip online. Go to Treehousetv.com and follow the links. We Mac users would appear to be out of luck on this one!

Divide class into 4 groups or parts.

Brainstorm 4 different parts to produce together like a round.

Have groups practice separately. Then try each other's parts. Then come in in sequence like a round.

Take your Beat Box to another, perhaps younger class. Or share during worship at children's story time.

Suggestions for 4 parts.

1. Say, Samson was a strong man who believed in God (make strong man arms)

2. Say, Samson got a haircut, whoops (act out scissors cutting hair)

3. Say, Samson still loved God (act out prayer gesture)

4. Say, And his hair grew back (act out brushing hair, some actors to side could topple over is if crumpling under the building Samson pulled down)


COMPUTER – Use Comic Life to create comic like panels to tell the story.


This is a program that comes with current Macs. (For PC users, find something similar). Take 3 – 4 pictures of classmates posing for key scenes. Import the pics into the program and add word bubbles, etc. You could also use pre-prepared pictures or downloaded graphic files loaded into classroom computers.

NEIL'S SAMSON GAMES WORKSHOP

Consists of 'Bring down the House' Bowling, 'Stronger than New Bowstrings' Sky Rockets, and a "Bring down the House' Parachute Game. For photos across different age groups, click here.


................


Click here to return to Top of Page for Background Notes as well as activities for Samson, Rotation 1.